ブログ担当の市野です。

Patricia Prieto Blancoさんからブースの紹介文が届きましたので、
ここに掲載させていただきます。

なおPatriciaさんには、ギャラリー1でのブース出展とともに、
24日の13:30-15:00にパネルルーム4で開かれるパネルセッション、
「映像化される歴史、不可視化される記憶」でも発表をしていただきます。


Hi there,

I'm Shin'ichiro Ichino, the blog staff of CT2011.

Posted here is the booth description by Ms. Patricia Pieto Blanco.

Instead of merely exhibiting her photographic work (Family Photography: Hidden Absences and Constructed Meanings through the Phatic Dimension of Communication), she will also talk about her project in the following session.

Time: July 24th (Sun) 13:30-15:00  
Venue: Panel Room 4
Session Title: Visualised History, Invisiblised Memory



***********************************************************

As requested by the organization of Cultural Typhoon few days ago, here is a brief presentation of what I'll be showcasing at the conference this weekend.

"They (images) do not exist by themselves, but they happen; they take place whether they are moving images (where this is so obvious) or not." (Belting, 2005: 302).
During my childhood, summer holidays meant three months living in a tiny cottage along with my entire extended family. Adults were allowed to leave the premises every day and go to town, but my cousins, my sister and I remained there. My grandma was there too along with all of her family photographs: on the mantel over the fireplace, on the wall at the entrance. And her albums too, far away from our hands, on the top of the hutch in the living room.


In my grandma's album there were next to the "better" shots of the family, which depicted everyone smiling at the camera and whose aesthetics qualities didn't include bluriness or cut extremities, those that had been trimmed for diverse reasons. Sometimes it was obvious that the aim was to get a picture of a family member standing alone, but looking closely there was another much more irrititating pattern throughout the whole album. A concrete person's head had been removed again and again as if my grandma had tried to expiate the family archive of this person's inffluences and effects on the colectivity.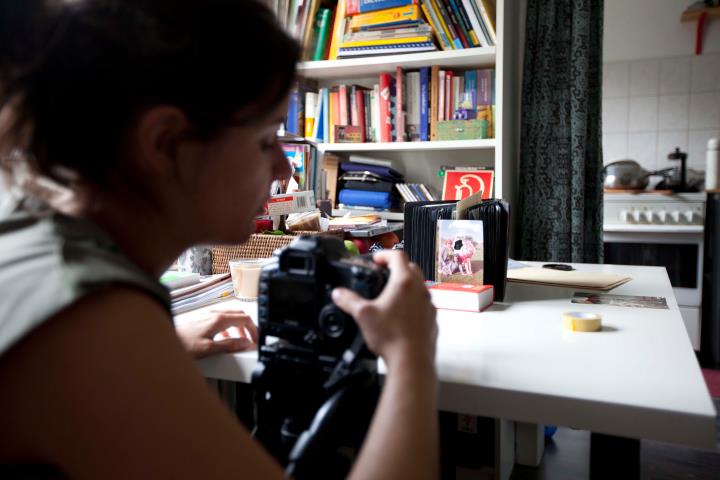 The aim of this approach to my own family photography is to highlight the relevance of the variables that I use in my theoretical research on the matter: interaction and space. The prospective visitor will have to engage him/herselfactively. And yet this desired participation won't allow any close access to my grandma's family archive, but the construction of a shared set of experiences around the main topic: family photography. Alone the wish to produce, yet to posses, photographic pictures, implies a social dimension of photography which is never free of meaning and therefore depends on grammar to sucess.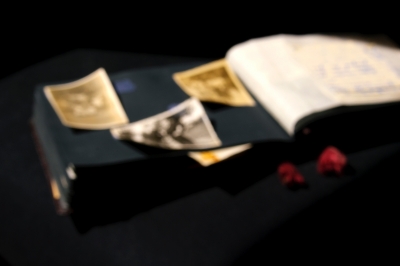 Belting, Hans (2005): "Image, Medium, Body: a New Approach to Iconology." In: Critical Inquiry, Nr. 31, Winter 2005. Chicago: Chicago University Press, S. 302-19)